So you are looking for a relatively inexpensive lawn mower.  If so you might be in the market for an electric mower.  Electric mowers are a great alternative to gas lawn mowers and they cost much less.  In this post, we will take a look at several different lawn mowers and find the best electric lawn mower under $100.
Why should you choose an Electric Lawn Mower for your yard?
The single most common answer is less noise.  Another plus is that electric lawn mowers require little to no maintenance on the equipment.  For corded electric lawn mowers which we will be looking at today, you pretty much just have to do is sharpen or replace mower blades.  Corded electric lawn mowers are very light and are easy to push. Electric rates, in general, are usually much cheaper than the price you will pay for gas.
Electric Mowers are Better than Gas Mowers
Corded electric lawn mowers are better than gas lawn mowers for a few reasons:
Zero emissions, which is much better for the environment
Electric mowers are much quieter
No gas to buy, which makes the cost of ownership cheaper
You don't have to store and maintain gas supplies at your home
I actually completely switched to electric powered outdoor lawn equipment recently, and I am happy I made the decision.
What about a Battery Powered Lawn Mower
Well to be honest, at the $100 price point, you can't buy a battery powered mower. Battery powered electric lawn mowers are more expensive due to the price of the batteries it requires to run a lawn mower. However, battery powered lawn mowers will allow some benefits over their corded counterparts. The benefit of being cordless allows you to cut your lawn and not be tied to the nearest electrical outlet.
What are the disadvantages of a corded electric lawn mower?
So corded lawn mowers are limited in range. You can only be as far as your extension cord and electrical outlets will allow. This means corded mowers are only good for small lawns or small areas that need cutting. One other thing to remember is the cutting width. With the smaller cutting widths between 14inchs – 18inches, you might have to make many passes to cut your lawn. Cord management can be an issue as well, you don't want to run over your extension cord.
So what kind of electric lawn mower can you get for $100
a corded mower, there really are no battery powered mowers at this range
9amp – 12amp powered motors
14inch – 18inch cutting width
mulching and bagging capabilities depending on the model
multiple position height adjustment
It really is surprising that you can get all these features at such an inexpensive price.
We hope you love the products we recommend! If you buy something through our links, we may earn an affiliate commission.
Electric Lawn Mowers Under $100
In no particular order, here are five great electric lawn mowers under $100.
American Lawn Mower Company 50514 14-Inch 11-Amp Corded Electric Lawn Mower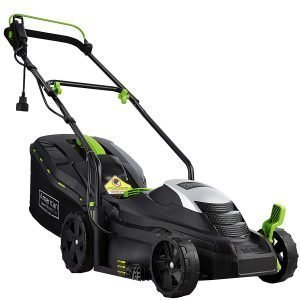 The American Lawn Mower company may be most known for its old-fashion reel mowers, but this lawn mower is of the electric variety.  The mower has a smallish 14inch cut but can be had in larger cutting widths but not in the sub $100 price range. This mower would be great for smaller yards and has a powerful 11-Amp motor, to cut through that thick grass with ease.   Check out some of its features below.
The American Lawn Mower electric corded push mower provides a clean, reliable cut.
The 11-Amp motor is powerful enough to tackle the tough mowing jobs
Great from small lawns
starts with just a push of a button. The mower has an adjustable handle length, that can accommodate many different types of users.
 14-inch cutting width,
1 in. to 2. 5 in. high with the 5-position cutting height options.
features a grass bag with a level indicator allowing users to know when the bag is full.
lightweight and easy to operate and even easy to store when not in use.
Greenworks 14-Inch 9 Amp Corded Electric Lawn Mower MO14B00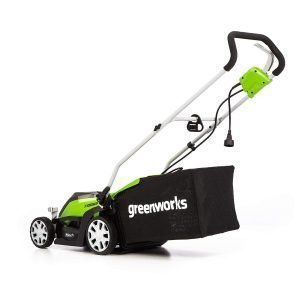 The Greenworks 14 inch is a pretty impressive mower for its size.  Greenworks is a well know manufacturer of electric lawn and outdoor power equipment and Greenworks is well represented in this list of mowers under $100.  The M014B00 has a 14 " cutting width and is lightweight and easy to store.
Green works corded mower provides a reliable cut.
14″ cutting width with 1.25 in – 3.5 single lever height adjustment
features a powerful 9Amp motor to handle small to medium size lawns.
lightweight and easy to maneuver at only 33 lbs.
Handle folds for easy storage.
Great for small lawns
Greenworks 16-Inch 10 Amp Corded Electric Lawn Mower 25142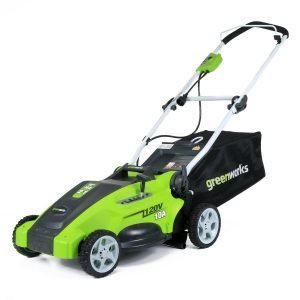 The Greenworks 25142 is a 16 " corded lawn mower with many great features.  It has a powerful 10amp motor that is strong enough to handle the toughest lawns.  In the 16″ range this mower can be used for both small and medium-sized lawns.
10 Amp Electric Motor delivers enough power to cut through tough grass.

16-inch cutting width

Easy push-button start

2-in-1 feature provides mulching and rear discharge capabilities

5 position height adjustment offers cutting height from 5/8-inch to 2-5/8-Inch 

7-inch rear wheel and 6-inch front wheels

Foldable handles for compact storage
Great for small to medium-sized lawns
Greenworks 18-Inch 12 Amp Corded Electric Lawn Mower 25012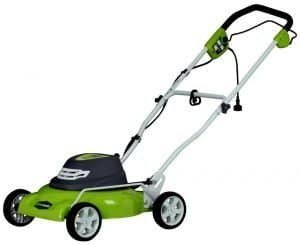 The Greenworks 25012 has one of the largest cutting widths of corded mowers on the market.  With an impressive 18″ cutting width and a 12 amp motor you can cut a small to medium sized lawn in no time.  One thing to note is tht this mower doesn't have a bagger like most of the other mowers in this list.
12 Amp Electric Motor delivers enough power to cut through the tough grass

steel 18-Inch cutting deck

2-in-1 feature, with side discharge and mulching capable

7 position height adjustment offers a range of cutting height from 1-3/4-Inch to 3 3/4-Inch

7-inch front and rear wheels make it easy to maneuver 

Foldable handles for compact storage
Easy push-button start
Great for small to medium-sized lawns
Sun Joe Mow Joe 12-Amp 14-in Corded Electric Lawn Mower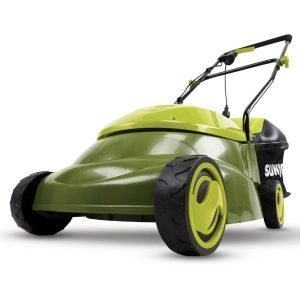 The Sun Joe Mow Joe is a great little 14″ cutting width mower for smaller lawns.  Sun Joe manufactures many different types of electric lawn and outdoor power equipment.  This mower has a strong 12amp motor and detachable bagger.  It should have no issues handling the cutting duties of a smaller yard.
Powerful 12-amp motor
14-inch wide cutting path
3 position height adjustment 1.18 inches to 2.52 inches
Detachable Grass catcher
Compact and lightweight (only 29 lbs) for easy maneuvering
Easy push-button start
Rugged all-terrain wheels
Collapsible handle for easy storage
Which electric mower under $100 would you choose?
Well, you can't make a bad decision with any of the mowers listed in this post.  Each one can easily cut grass in small yards.  However, if I had to choose one corded electric mower I would take a look at the Greenworks 18-Inch 12 Amp Corded Electric Lawn Mower 25012.  These mowers can take care of your lawn mowing needs, do it without using gas, without a lot of maintenance, and without spending a bunch of money. If you need a new lawn mower and don't have or want to spend over $100, check out the mowers above, and give an electric powered corded lawn mower a chance I don't think you will be disappointed. Let's go cut some grass.
Greenworks 18-Inch 12 Amp Corded Electric Lawn Mower with Extra Blade 25012
Powerful 12 amp electric motor delivers enough power to cut through the toughest grass

Durable Steel 18-inch cutting deck gets the job done quicker and more efficiently

2-In-1 feature, with side discharge and mulching capable

7 position height adjustment offers a range of cutting Height from 1-3/4-inch to 3 3/4-inch for the perfect cut on all grass types

7-Inch front and rear wheels makes it easy to maneuver around uneven terrain and around flower beds
Lawn Mower Manufacturers Mentioned in this Post