Last Updated on January 4, 2021 by the staff of TheAllElectricLawn
Are you in the market for a new string trimmer? Have you gotten tired of the hard to start small gas engines on your existing string trimmer?  If so you might want to take a look at the best battery powered string trimmer of 2021.
Why choose a battery powered string trimmer?
There are a few reasons why you might want to choose a battery powered string trimmer over a gas string trimmer.
starts easily and every time
lighter weight
no mixing of fuel
no fuel storage
much quieter than gas trimmers
I personally switched to all electric outdoor equipment recently and I am not looking back.
Gas vs Electric String Trimmers
So what are the major differences between gas and electric trimmers then?  I would say the major difference is convenience.  Electric string trimmers are much easier to deal with.  I am sure if you have used a gas powered string trimmer in the last decade, you have had to deal with mixing fuel.
Mixing the Gas
With an electric trimmer, there is no gas or oil or anything like that to deal with, so all you really have to do is make sure your battery is charged.  Did I mention how convenient battery powered outdoor tools can be?
Not that mixing gas takes an aerospace engineering degree, but it is a pain.  This usually reared it's head when I had to go to the local home center and buy those small bottles of oil to mix up the gas.  I never seemed to have one when I needed it.  Even when I got it mixed there was no guarantee it would start.
Why won't this thing start?
So electric string trimmers always start, because all you have to do is put a battery in or plug it into the wall and pull the throttle trigger.
Gas trimmers can be extremely hard to start.  If your fuel has been sitting too long, or you forgot to add an Ethanol additive to your fuel, then starting the trimmer can be a real pain.  Anyone ever broke a recoil starter?  I have.
Gas Trimmers are so Loud
So now you have the trimmer started, but it sounds like a go cart running at top speed.  No trimming for you early in the morning when the temps are nice an cool. The neighbors won't like that.  Also, don't forget about that exhaust smell.
Electric trimmers, for the most part, are quieter, I won't say quiet.  You have the whirling noise of the string as it spins, but you don't have the high pitched whine of the motor.
Gas Trimmers are Heavy
You're trimming away at your landscaped beds or sidewalks, and you start to feel your arms getting tired, and you're only halfway through trimming.  My old gas trimmer weighed a ton, not literally, but it was heavy.  I had to eventually give in and use a shoulder strap to offset the engine weight.
My electric trimmer, on the other hand, is not heavy.  I do have a motor and battery to contend with, but compared to my old gas trimmer, this thing is light.  The great thing is I didn't experience a loss of power when switching to a battery powered trimmer, you can't beat lightweight and powerful.
We hope you love the products we recommend! If you buy something through our links, we may earn an affiliate commission
Best Battery Powered String Trimmer for 2021
So hopefully I have at least convinced you to consider a battery powered string trimmer as your next trimmer choice.  Below in no particular order are five of the best battery powered string trimmers available in 2021.
RYOBI 40 Volt Lithium-Ion Cordless Attachment Capable String Trimmer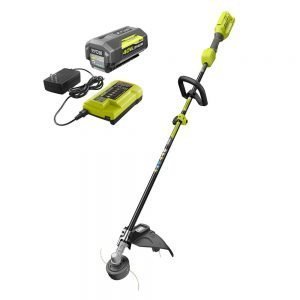 RYOBI makes a larger assortment of electric lawn and outdoor power equipment, and I own quite a few of there products.  This 40 volt string trimmer has all the power of an gas model, with non of the gas powered headaches.  The trimmer has an impressive 13 in. to 15 in. cutting width, and has bump feed head for getting more trimmer string when you need it.  The biggest advantage this trimmer has over the other in this list are the expand-it attachments with making this not just trimmer, but a blower, and pole saw, and many other tools.
Gas like power
Attachment capable: accepts RYOBI expand-it attachments and other universal gas attachments to save time, money and space
Premium 0.080 in. twisted dual line
Reel-easy bump-feed string head for fast and easy reloading
Variable speed trigger for cutting control
13 in. to 15 in. adjustable cutting width
EGO Power+ 15in 56 Volt Lithium-Ion Cordless String Trimmer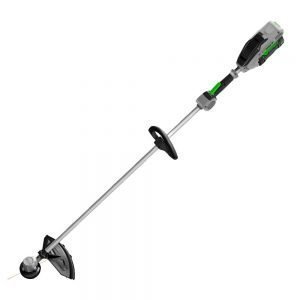 EGO makes some great battery powered tools and the 15in 56 volt string trimmer is no exception.  The trimmer has massive power with its 56 volt battery and impressive runtime.  The trimmer also has a larger diameter trimmer line that makes it more durable and can handle larger weeds and grass.
Rapid reload head to quickly and easily load cutting line
15 in. cutting swath
Dual-feed spiral-twist 0.095 in. line
Hi-efficiency brushless motor
Variable speed control
Weather-resistant construction
2.5 Ah ARC lithium battery powers all EGO Power+ products
Makita 18 Volt X2 LXT Lithium-Ion Brushless Cordless String Trimmer
Makita is a long-time favorite of professional builders and contractors.  This shows the quality in the 18 volt X2 LXT string trimmer.  This trimmer comes with a powerful brushless motor, which overcomes the smaller voltage batteries used in this trimmer.  The trimmer has a reverse rotation function which will help you get untangled if you trimmer string gets caught up in some extra tough weeds.
Makita-built outer rotor BL Brushless motor direct-drive system provides high power and increased torque

Variable speed trigger for power control

2-Speed options 

Equipped with bump and feed trimmer head loaded with 0. 080″ Twisted quiet Line

Reverse rotation function allows the operator to quickly clear trimmer head of entangled grass and weeds
DEWALT 14 Inch 20 Volt Max Lithium-Ion Cordless String Trimmer
DeWalt is long time manufacturer of quality power tools used in the construction industry.  The 20 Volt Max has a smaller 14in cutting width but has a variable high/low speed which will help you power through trimming jobs in your yard. One great plus is that the batteries for the trimmer will work in all 20V max tools.
14 in. Cutting Swath

Collapsible Design

0.080 in. Line

Gear drive transmission design that powers through the overgrowth

Variable trigger with high/low speed control

Lightweight, ergonomic and balanced design 

Part of the 20V MAX system of tools
CRAFTSMAN V20 String Trimmer and Edger
Craftsman has been known to make quality power tools for many years and the V20 string trimmer is no exception to that rule.  The trimmer has a powerful brushless motor and variable speed control.  This trimmer is also light weight helping you get through those longer trimming sessions.
13″ Cutting swath

0.080″ Line

Patented gear drive design that powers through the overgrowth.

Watt Hours – 80.0 Wh

Variable trigger with Hi/lo speed control 

High-efficiency Brushless motor 

Lightweight and ergonomic design 

Includes battery and charger
Which battery powered string trimmer to choose?
Well, actually you can't go wrong with any of these models.  They can all handle your day to day trimming tasks with ease.  I actually own the RYOBI 40 Volt Lithium-Ion Cordless Attachment Capable String Trimmer and I love it.  I wouldn't go back to using my gas powered trimmer.  I am able to trim up around my house on a single battery and have never run out of battery power to finish the job.
Battery powered trimmers, in my opinion, are really the best choice when you need to get a new string trimmer, you get a powerful, quiet, nearly maintenance-free tool, that starts every time.  Any of the trimmer listed above would be a great choice for the best battery powered string trimmer of 2021.  Get out there and clean up those edges.
Battery Powered String Trimmer Manufacturers Mentioned in this Post